Upgrade your living space
Beautiful Patio Furniture and Outdoor Design
We offer a wide variety of patio furniture that can really make your outdoor space feel like part of your home. Our design center showcases just a few of the gorgeous pieces we offer through our partnerships with top manufacturers. No matter what type of furniture you're looking for, we can help you find it.
Shop Our Wide Selection of Patio Furniture
Our selection of outdoor furniture includes armchairs, side tables, benches, coffee tables, couches, dining sets, shades, and more, ensuring that you'll be able to create a space to relax, eat, or entertain in. Each piece is designed to hold up to the rigors of the outdoors while retaining comfort and elegance that make you feel at ease.
All of our pieces come from top manufacturers such as Summer Classics, Kingsley-Bate, Treasure Garden, Polywood and Trex. The furniture is made from a variety of materials and comes in many different styles, ensuring that you can find what you want whether you're looking for a sleek modern statement piece or a classic wicker set.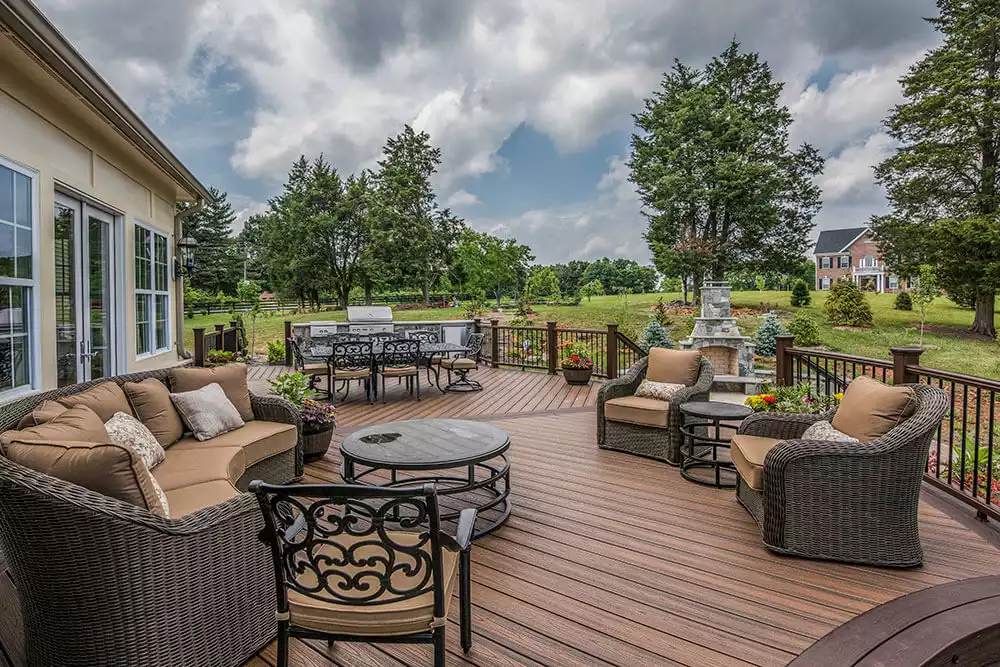 Elevate Outdoor Living with Timeless Elegance from Summer Classics
A wide variety of high-quality, handcrafted furniture items from top outdoor furniture brand Summer Classics are available to turn any outdoor living area into a beautiful hideaway. Summer Classics' collections highlight elaborate designs and details that are meticulously produced utilizing only the finest materials, with an emphasis on timelessness and sturdiness.
Each item, whether it be made of wrought iron, cast aluminum, or teak, is made to survive the weather without losing its aesthetic value or practicality. Summer Classics has a wide range of styles and finishes to help you design the outdoor living environment of your dreams, whether you're searching for accent, dining, or seating pieces.

Experience the Perfect Fusion of Comfort and Style with Kingsley Bate Furniture
Kingsley Bate is a top-rated brand that focuses on producing fashionable and cozy outdoor furniture pieces suitable for any outdoor living area. Their exclusive collections are made from premium materials such as teak, wicker, and aluminum and incorporate classic designs that emanate elegance and sophistication.
Every piece of furniture is crafted with great attention to detail, ensuring it is not only durable and comfortable but also visually appealing. Kingsley Bate's diverse range of outdoor furniture products includes various sizes and styles, including comfortable outdoor lounge chairs and ample dining sets, all of which are customized to suit your specific requirements.
Sustainable and Durable Outdoor Furniture with Trex
Trex is a top manufacturer of environmentally friendly outdoor furniture, offering a variety of enduring furniture options that look great in any outdoor living area. Plastic bottles, reclaimed wood, and other recycled materials are used in the creation of Trex furniture to create elegant pieces that are not only lovely but also good for the environment.
Their collections include dining sets, lounge chairs, and outdoor accessories in a range of designs and materials. With Trex, you can design a lovely and environmentally friendly outdoor living area that you can use now and in the future.
Experience the Perfect Combination of Style and Sustainability with Polywood
Polywood is an acclaimed brand that produces trendy and environmentally sustainable outdoor furniture pieces using recycled plastic materials. Their collection includes a broad spectrum of styles and finishes, ranging from classic Adirondack chairs to modern dining sets, all meticulously crafted to endure outdoor weather conditions while retaining their elegance and practicality.
Polywood's furniture pieces not only promote eco-friendliness, but they are also easy to maintain and long-lasting, making them the ideal choice for any outdoor living area.
Enhance Outdoor Living Experience with Treasure Garden's High-Quality Umbrellas
Treasure Garden is a renowned brand that specializes in manufacturing premium outdoor umbrellas. They offer a wide range of stylish and high-quality umbrellas that are suitable for any outdoor living area. Their collection comprises various sizes and styles, from traditional market umbrellas to modern cantilever models, all designed to provide shade and enhance the aesthetic appearance of your outdoor space.
The umbrellas are made from top-quality materials such as Sunbrella fabric, which is waterproof, UV-resistant, and effortless to maintain. With Treasure Garden, you can create a comfortable and fashionable outdoor living space that you can enjoy throughout the year.
Get in touch with our team of home and backyard improvement specialists. We're here to make your house a home with trusted products, services and more!