PDC Spas® Hot Tubs offer the ultimate relaxation experience in the comfort of your own backyard. With a variety of sizes, features, and designs, there's a perfect hot tub for every lifestyle and budget. PDC Spas®' patented therapy seats and hydrotherapy jets provide the perfect massage to soothe sore muscles and promote overall wellness. 
Made in the USA with durable materials, PDC Spas® Hot Tubs are designed to withstand any weather condition and provide years of enjoyment. Upgrade your backyard oasis with a PDC Spas® Hot Tub today.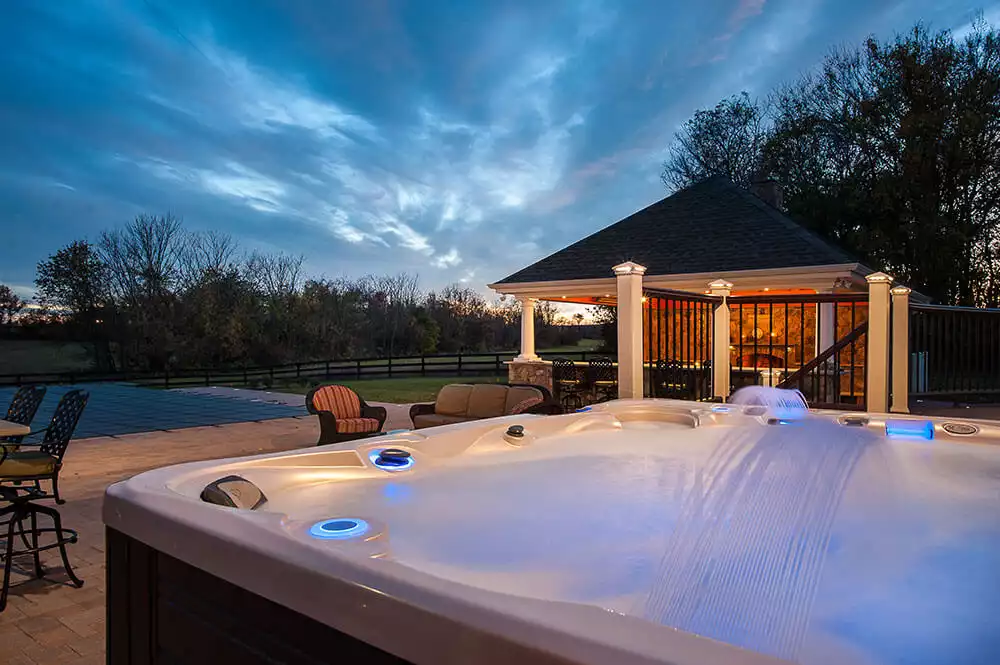 Where Style Meets Innovation
When it comes to the hot tub lifestyle, there really is no comparison. You can enjoy a simpler approach to health and wellness, all while making a lasting investment in your home and quality time with loved ones. When complemented by the innovation and excellence that is synonymous with PDC Spas® Hot Tubs, you'll wonder how you ever went without.
Unmatched Comfort in Seating Design
Experience unparalleled comfort in PDC Spas® hot tubs with their unique seating designs. From the Recliner feature that relaxes the entire body to the cradling lounges that support users of all sizes, their hot tub models offer a perfect hot tub experience with contoured buckets, deep bench seats, wide corner seats, and armrests.
A New Dimension of Pleasure
People of all ages can enjoy the natural benefits of soaking in warm water, from water games for kids to deep tissue massage and joint pain relief for aging couples. With a hot tub you can take a moment for yourself, feel better, sleep better, and even have those long-awaited conversations. Investing in a hot tub could be the best decision you make for yourself and your loved ones.
Indulge in warm water hydrotherapy and reap the benefits of relaxation with a PDC Spas® hot tub. Take a break from technology and let the warmth envelop you, melting away the stress of the day. With a PDC Spas® hot tub, you can enjoy a vacation-like experience at home, with endless relaxation at your fingertips.
Installing a PDC Spas® Hot Tub can enhance the value of your home. It can add a luxurious touch to your backyard oasis and increase the appeal of your property to potential buyers, should you ever decide to sell.
Inspiration for Your Backyard
Everything you need to know about PDC Spas® Hot Tubs, from the features and technology, to how one can change your life for the better.
Dedicated to Customer Satisfaction
Don't just take our word for it. See why our customers love us!
The results they produced exceeded my expectations
Holloway Company completed an elevated deck renovation project for me last month, and I couldn't be happier with the results. I have had no issues, and I am just as pleased now as I was the day the job was finished.
My wife and I hired Holloway to install a patio for us. They did an amazing job! From the initial design process, to the work, and the finished product we could not have been happier. The gentlemen doing the work were pleasant and explained the process as well as answered any questions we had.
Get in touch with our team of home and backyard improvement specialists. We're here to make your house a home with trusted products, services and more!