Outstanding Swimming Pool Design Choices
As you get ready to plan your swimming pool design, start by mapping out the space to determine what shape, style, and size is ideal for you. Next, consult with the specialists at Holloway Company about what materials will work well for your site.
Finally, think about other small accessories such as a slide, pool house, or diving board that can add entertainment and appeal to your pool.
The quality of the materials will determine the long-term life of your outdoor pool. When selecting materials for your outdoor swimming pool design, make sure to consider comfort, durability, appearance, and safety. Although vinyl is often the most cost-effective choice, it is also the least enduring and will need frequent replacement.
Some common materials and features include:
Regardless of the material you choose, the up-front costs should not be your only consideration. Make sure to consider repair costs and maintenance.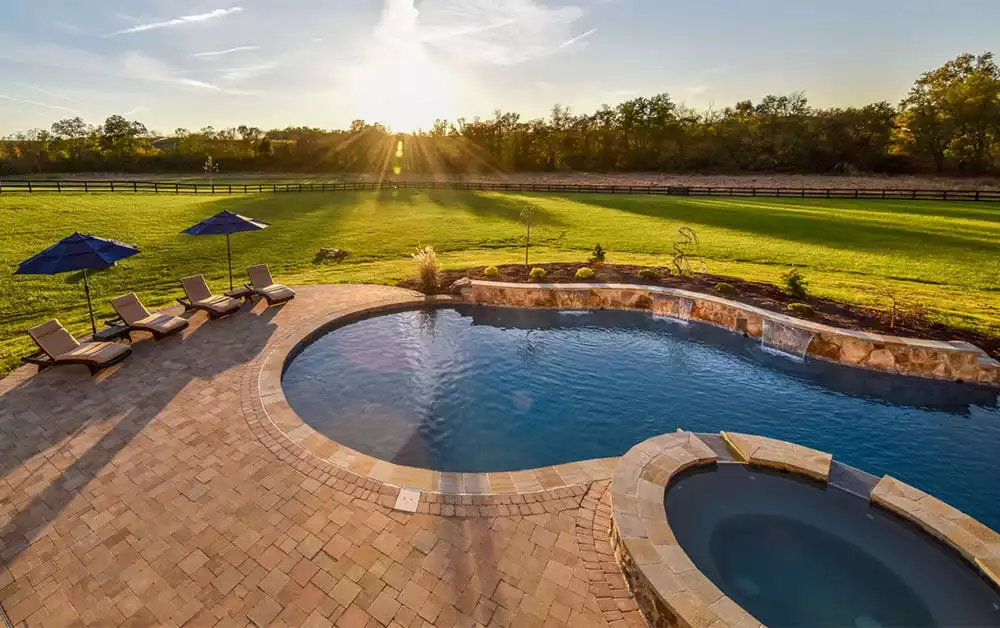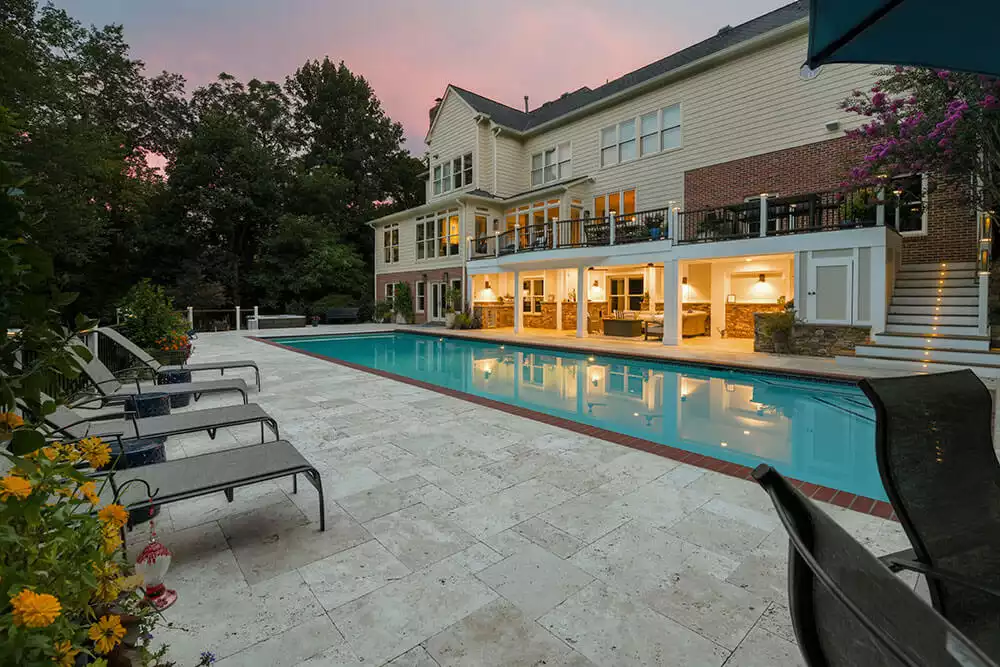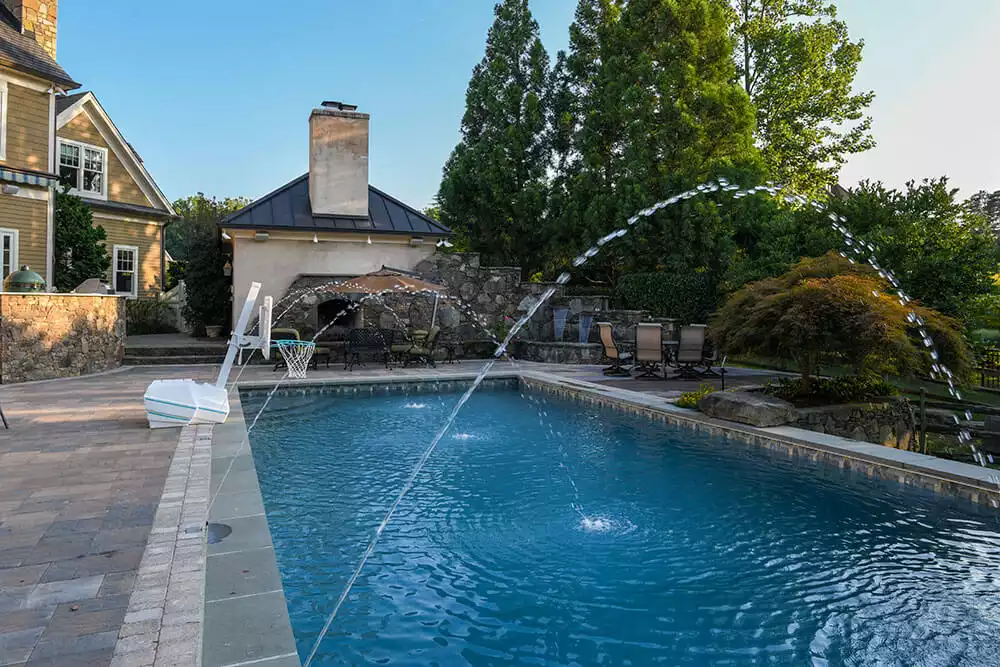 Pool Accessories and Features to Consider
There are many ways to increase the enjoyment factor, such as installing a small waterfall, slide, and diving board to make swimming more enjoyable. A pool house or cabana can help with entertaining during parties while an outdoor changing station and shower are handy when you are ready to go indoors.
Be sure there are plenty of chaise loungers and umbrellas on hand so you can relax outside and enjoy the warm weather also available at Holloway Company.
Extraordinary Ponds and Waterfalls
A backyard pond with darting fish, floating plants, and running water can transform a dull space into something breathtaking. Keeping it charming and trouble-free requires effort, but with a little extra thought in the design and construction phases, you can create a nearly maintenance-free pond.
A correctly built waterfall will become the focus of your backyard but should look like it's existed for decades. Using natural boulders to blend the water feature and balance the surrounding environment.
Benefits of Water Features
You can build fabulous ponds in nearly any location of your yard, such as in the back or front, in the shade or sun, in the patio or by the pool. However, locating it in a spot that gets at least six hours or more of direct sunlight each day will give you an extensive selection of easy-to-care-for plants. Garden water features are often seen as the highlight design feature. An aptly built pond and waterfall can transform a dull body of water into a vibrant stream, full of activity and life. Not only is a garden pond waterfall pleasant to look at, but also the sound of falling water provides peaceful, soothing relaxation. Other benefits of water features include:
Garden pond waterfalls look great when they are designed to appear as natural as possible while complementing the design and size of your pond. This involves creating your waterfall so that it blends in with the landscape, instead of something added as an afterthought.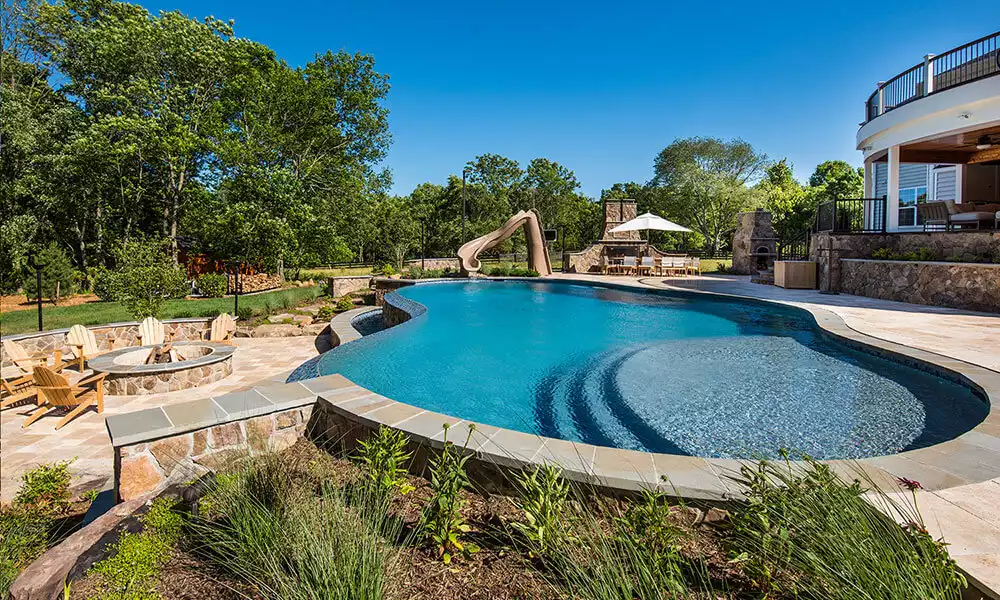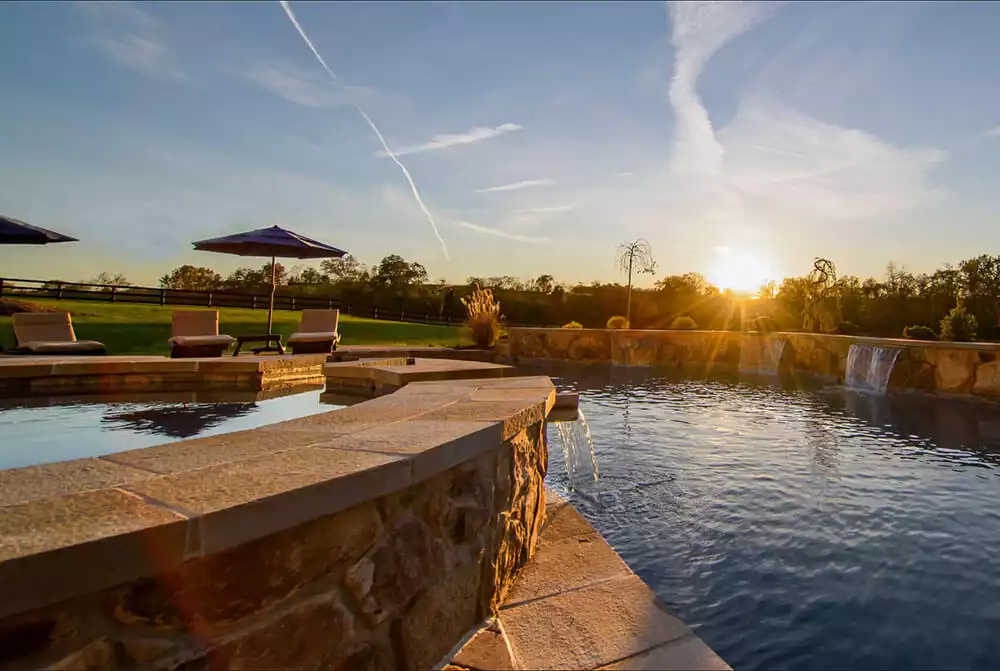 Decorative Landscaping Design
We are a landscaping and home remodeling company located in Northern Virginia and provide homeowners and builders with a hassle-free exterior design experience. Our team consists of experienced landscape specialists, professional design staff, exterior construction personnel, and masonry experts that work together with you to recreate your home's exterior.
Elements of an Outdoor Oasis
Let our designers at Holloway Company turn your landscape visions into an outdoor oasis. Whether you have an outdated or overgrown landscape or a new home being landscaped for the first time, we can design the ultimate getaway in your backyard with our expert knowledge of grass, foliage, plants, flowers, and much more. From contemporary to classic, our ideas provide homeowners with designs as extravagant or simple as if they prefer. Some popular options include:
Ponds
The sound of cascading water in a backyard pond is a must-have for the perfect place to unwind. The feature is designed to look as natural and easy to maintain as possible.
Bird baths
The chirping of birds is an additional relaxing element of your outdoor oasis and can make you feel in touch with nature.
Waterfalls
Available in various sizes, elaborate waterfalls are ideal for wider or larger outdoor spaces, while smaller ones can be added to create a focal point in a garden or patio.
Fountains
Adding or building a fountain in your backyard provides a place for relaxation, enhances appeal, and increases your property value.
Get in touch with our team of home and backyard improvement specialists. We're here to make your house a home with trusted products, services and more!