Are you looking for a way to boost the appeal of your backyard, while maximizing the usability of your space?
Outdoor swim spas do just that!
With their modern take on a pool boasting a compact design to make backyard swimming more accessible (and better) than traditional styles, they're a powerful addition to any space.
But these year-round pools do so much more than simply enhance your outdoor space. They provide a range of benefits that'll have you jumping in the water day after day!
In this guide, we're going to explore some of the best ways outdoor swim spas can support your daily living, and share six models from PDC Swim Spas®️ making a splash. At the end, we'll give you an easy-to-follow guide to choosing the perfect swim spa for your family.
Let's dive in!
Benefits of Outdoor Swim Spas
Swimming has been tied to a variety of health and wellness benefits, from improved heart health to better energy levels and blood pressure.
But with a swim spa that's installed outdoors, you can enjoy a range of additional benefits, while supercharging some of the ones you'd already experience simply from being in the water.
1. Spend More Time Outdoors
Getting outside is imperative to your health, and can support your daily well-being in numerous ways.
Not only does it allow you to soak up the vitamin D from the sun, but it's also been shown to combat stress and reduce mental fog and fatigue.
Best of all, you don't need to spend hours outside to reap these benefits; just 20 minutes will do the trick!
2. Year-Round Outdoor Fitness
If you're someone who enjoys getting outside to work out the moment spring hits and the snow's off the ground, an outdoor swim spa can be the perfect way to extend your season.
With their perfectly heated water to maintain cozy temperatures all year round, these spas are perfect for working out 365 days a year.
Not only can they easily meet your desire to exercise outdoors through any season, but they also maximize your workout routines by cutting out your drive time to the gym during winter!
3. Gentle, Yet Effective Workouts
Let's face it, working out can take a toll on the body, especially for impact-heavy workouts like running.
Swim spas help relieve that pressure to create more gentle workouts to protect your joints, without compromising the quality of your workout.
In fact, they can actually enhance your workout through the added resistance you face from the water, while the warmth from the water boosts up your burn!
Best of all, swim spas are for far more than just swimming, offering the perfect atmosphere for lifting, running, mobility exercises, and even yoga!
4. Built-In Recovery
Speaking of exercise, how often do you take the time to include a recovery session at the end of your workout?
This is often one of the most overlooked aspects of any fitness routine, and a simple stretch session at the end of a strenuous workout is vital in reducing pain and stiffness, while promoting healing.
In a swim spa, this recovery is effortless, whether you include it directly after a workout, or focus on recovery during rest days.
The warm water alone will help improve your mobility and support your muscle movement during your workouts, but the real recovery happens once you sit in the hydrotherapy seats.
As you lean back and enjoy a powerful deep-tissue massage, the pressure will help relax your tense muscles and promote increased blood flow, flooding them with oxygen-rich blood.
Not only will you be feeling your best, but you may discover a boost in your performance simply by maximizing your recovery time!
5. Hydrotherapy Health Benefits
And, of course, we couldn't wrap up this list without highlighting the most significant benefit of outdoor swim spas; their hydrotherapy benefits!
Between the powerful jets, warmth, and swirling of the water, your body can experience plenty of benefits both physically and mentally.
Enhanced recovery
Better circulation
Improved sleep
Muscle relaxation
Pain relief
Combat anxiety
Reduces stress
And that doesn't even include the many benefits of regular exercise!
Stunning Outdoor Swim Spas To Update Your Backyard
So, with all those benefits waiting to be claimed, you may be wondering what kinds of swim spas you have to choose from.
We wanted to make envisioning your new swim spa as effortless as possible, so we've compiled a list of our six favorite models that can meet the demands of any lifestyle!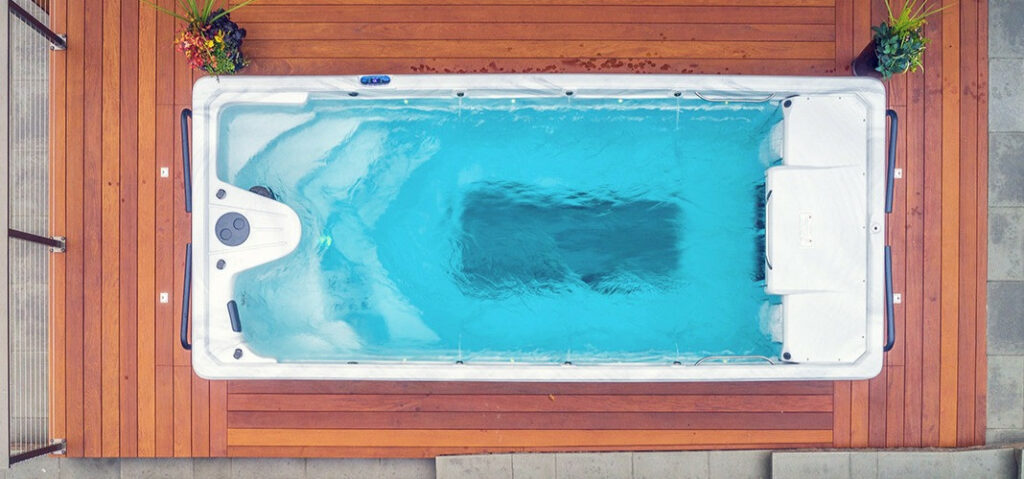 Outdoor Swim Spas for Smaller Spaces
If you're worried you may not have enough space for a swim spa, you might be surprised!
While they definitely require some room, there are some smaller models that make it possible to fit them into smaller spaces.
Here are two options that may be the perfect addition to more compact backyards.
SL12s
This is the ultimate compact model, with a length of only 144", boasting a unique design to maximize your usable space.
At first glance, the SL12s may seem limited with the singular hydrotherapy seat tucked long on one side of the spa, when in fact, this model includes three powerful hydrotherapy options!
Along the sides of the spa, you'll discover two subtle standing jet configurations, allowing for you to massage your aching back even as you entertain your kids!
Paired with an unobstructed swim area, this outdoor swim spa provides a premium experience that was designed with smaller spaces in mind!
TSX15
This mid-side swim spa has a length of 180" and a width of 92", providing a compact, yet spacious design.
The TSX15 will have your body tension melting as you enjoy a soothing massage in the hydrotherapy seat along the end, as the underwater LED lighting brings the water to life.
While the open swim area is perfect for your kids to enjoy splashing around any day of the year, the swim jets are truly where this model shines.
Outfitted with a propulsion system with dual hydraulic propellers, this swim spa provides a smooth, even current, resulting in a predictable swim experience unlike any other.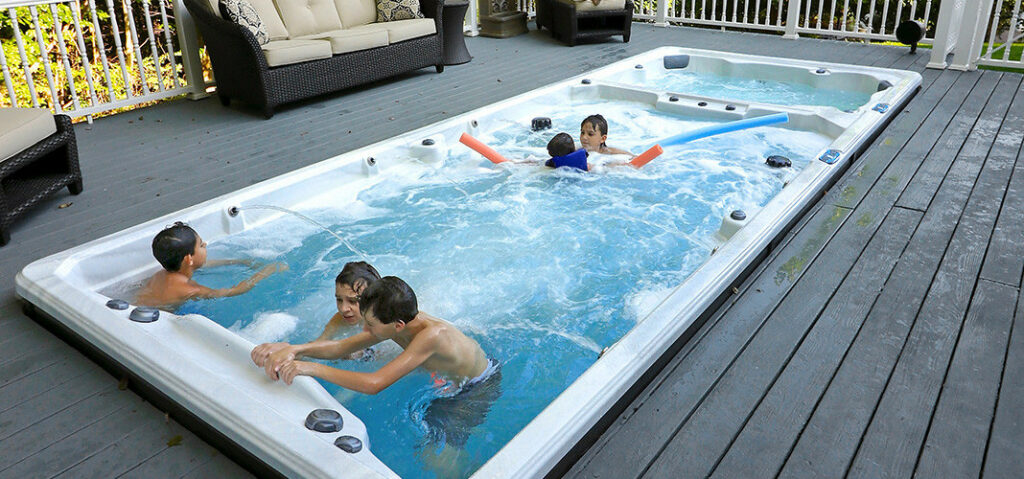 Spacious Swim Spas For Family Fun
Outdoor swim spas can be used to meet various needs, and if fitness is trumped by family time, there are models that expertly meet the demands of families of nearly any size!
While they certainly will require ample room in your backyard, these models provide spacious interiors to give your kids plenty of room to play.
SX19
The SX19 is an impressive swim spa boasting a total length of 227", with a wide open fitness area that's 160", making it perfect for larger families or those who require extra room for a comfortable swim.
With the AquaBar™️ Molded Acrylic Grip, keeping yourself steady as you move through your body weight exercises is as simple as reaching out a hand.
To maximize your cardio routine, this swim spa also includes an AquaCross™️ Tether Trainer to increase the resistance you're swimming against to torch calories and build strength.
Best of all, this model offers a range of hydrotherapy options, with two standing massage columns, and two hot tub seats.
It's truly the perfect outdoor swim spa for family fun without compromising on your fitness potential!
FX17
Slightly smaller than the model above, the FX17 is perfect for those families who want a model big enough for their families, but with a more compact footprint to complement a smaller yard.
With the adjustable Elite Pro™️ jets, teaching your kids to swim can be a breeze, while still having the power to keep up with more advanced swimmers.
This outdoor swim spa includes both hot tub seating as well as standing columns to provide a premium massage experience, powered by the Synergy FX-ProView™️.
Paired with a locking safety thermal cover, this swim spa has been designed with safety in mind, keeping unwanted visitors out, and ensuring children and animals can't fall in while unattended.
Swim Spa Models For Those That Want it All
Last on our list, are those swim spas that offer a truly immersive experience, providing not just a swim area, but a separate hot tub section!
If you're someone who's torn between a hot tub and a swim spa, these are the models for you!
TSX219
With enough seating for five adults, this dual zone spa is sure to meet your every need.
The TSX219 swim spa allows for each zone to work separately from the other, ensuring you can easily use each one independently, or at the same time.
With the separate hot tub seating, you can maximize your relaxation while your kids play in the 102" open swim area, or as your partner battles against the current during their morning swim.
If you're worried about maintenance, this model is the one for you! With PowerFlo™️ filtration, your water will be kept cleaner while enhancing the efficiency of your spa.
SX219
Do you enjoy the thought of a dual zone swim spa but want even more hot tub seating?
The SX219 does just that, with the hot tub section boasting four seats, and the open fitness area having an additional two seats and two standing massage columns!
Outfitted with the EveryPure2™️ Ozone system, you'll discover an effortless maintenance routine, as pure ozone constantly works to break down contaminants in your water.
Best of all, this model can transform your fitness routine with six-speed settings and customizable workout options!
The SX219 truly provides a one-of-a-kind experience, combining family fun, fitness, and relaxation in one stunning package.
How To Choose Your Outdoor Swim Spa
While you may have identified one or more of the outdoor swim spas above as your dream spa, there are some steps you need to take to determine if they're the right fit for you.
This can be done in four easy steps.
Step 1: Decide on a Budget
First and foremost, you need to narrow down what your budget looks like.
Swim spas are an investment there's no denying that, and as with any significant investment, you need to be prepared before making your choice.
Luckily, there are often financing options you can take advantage of to make buying your dream model possible, and much more affordable, bringing that upfront price down to a friendly monthly expense!
Step 2: Measure Your Backyard
After you've set your budget, you need to know how much space you have to work with.
You don't want to purchase a swim spa only to find out it's too large for your backyard, or leaves it feeling cramped and cluttered.
Avoiding this is as simple as measuring your backyard and determining how much space you're happy using for a swim spa.
Write these measurements down and bring them with you when it comes time to visit showrooms.
Step 3: Consider Your Needs
As you saw above, swim spas come in a wide variety of styles, each one offering a unique experience.
An important step to take before settling on a chosen model is to create a list of the top things you want your swim spa to have by considering your needs.
For example, if you want to maximize the space you have to share with guests, you may want to consider one of the dual zone models to allow for more hot tub seating.
However, if you're a fitness enthusiast and want the best workout environment, consider the variety of jet speeds and additional features, like the AquaCross™️ Tether Trainer.
Step 4: Explore Your Options in Person
Finally, you get to move into possibly the best stage; exploring your options and selecting your model!
This is the time when you get to visit showrooms and see the models up close and in person, while getting all your questions answered by the experts!
Outdoor Swim Spas For Sale in Dulles, Virginia
Transforming your backyard into your own personal oasis doesn't have to be challenging, and you don't have to do it alone.
With the team of experts at Holloway Company, you can find everything you need for your space, from premium outdoor swim spas, to custom decks and stunning fire features! Your dream backyard space is through our front doors! Visit us at our Dulles, Virginia showroom, or contact us today to discover our wide range of services and the areas we serve.