Are you looking to take your backyard to the next level? If so, you've come to the right place!
At Holloway Company, we believe that a fully equipped backyard can create lasting family memories and contribute to a better quality of life.
In this article, we're going to explore 8 exquisite outdoor pavilion ideas that will elevate your backyard and turn it into a luxury retreat.
Whether you're looking for a cozy space to entertain guests or a tranquil haven to relax in, we have the perfect inspiration for you.
Let's dive in and discover the wonderful world of outdoor pavilions together!
Transforming Your Backyard Into a Picturesque Escape
Outdoor pavilions are a fantastic addition to any backyard.
They provide a sophisticated and welcoming space to enjoy the outdoors, while also offering shelter from the elements.
From small intimate gatherings to large celebrations, an outdoor pavilion adds a touch of elegance and functionality to your backyard that will impress guests and enhance your overall outdoor experience.
Why Choose an Outdoor Pavilion?
Transforms your backyard into a versatile entertaining area
Provides shade and protection from the sun and rain
Offers a protected space for relaxation and unwinding
Creates a focal point in your backyard design
Increases the value and appeal of your property
With endless possibilities and opportunities for customization, outdoor pavilions can truly elevate your backyard and make it a haven for rest, relaxation, and bonding with loved ones.
Now, let's dive into some essential design considerations that will help you create the perfect outdoor pavilion tailored to your needs and preferences.
Design Considerations: Creating Your Perfect Outdoor Pavilion
When it comes to designing the perfect outdoor pavilion for your backyard, there are several important factors to consider.
From the size and style to the materials used, each decision will play a role in ensuring that your pavilion complements your backyard's overall aesthetic.
Let's explore some key design considerations that will help you create your dream outdoor space.
Size and Style
First and foremost, it's important to assess the available space in your backyard. Consider the overall size of the pavilion and how it will fit into your existing landscape.
Will you use it solely for entertaining guests, or do you also envision it as a quiet retreat for reading or enjoying nature?
Take accurate measurements and ensure your pavilion will be proportionate to the surrounding environment.
The style of your outdoor pavilion should complement the architecture of your home and blend seamlessly with the overall design of your backyard.
Whether your taste is modern, rustic, or somewhere in between, choose a style that suits your personal preferences and matches the existing aesthetic elements.
Materials and Adaptability
The choice of materials will not only impact the longevity of your outdoor pavilion but also add a touch of personalized elegance.
Traditional wood pavilions can bring warmth and timeless beauty to your backyard. Alternatively, metal or vinyl structures offer durability and low maintenance.
Consider factors such as weather resistance, durability, and aesthetic appeal when selecting the ideal material for your pavilion.
A well-designed outdoor pavilion should provide versatility and adaptability for different occasions.
Consider practical features such as adjustable roof panels or retractable screens that allow you to transform your pavilion into an open-air entertaining space or a protected shelter from the elements.
Local Codes and Regulations
Before embarking on your pavilion journey, ensure you are familiar with any building codes or regulations in your area.
Consult with professionals, such as our team of experts at Holloway Company, to make sure your design adheres to local guidelines.
Planning and designing an outdoor pavilion may seem overwhelming at first. By considering these design factors, you can create a stunning addition to your backyard that perfectly suits your needs and enhances your outdoor living experience.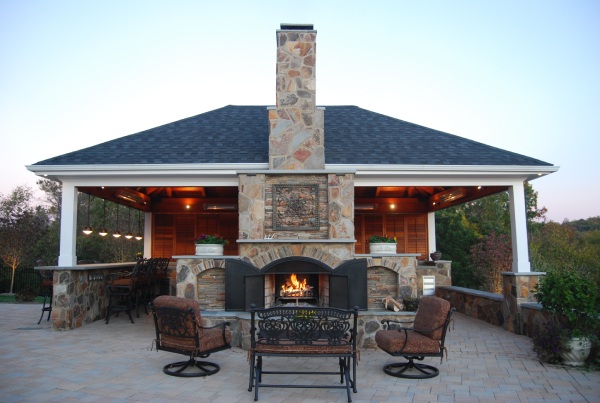 8 Ideas to Enhance Your Outdoor Pavilion
When designing an outdoor pavilion, it's important to consider the many ways you can truly make it your own.
Here are some of our favorite ways to transform your outdoor pavilion into a statement piece of pure enjoyment.
1. Lighting Options
The right lighting has a significant impact on your outdoor pavilion, creating a warm and inviting atmosphere for evening gatherings or late-night relaxation.
Consider incorporating ambient lighting, such as string lights or lanterns, to create a soft and cozy ambiance.
Additionally, task lighting, such as adjustable spotlights, can provide focused illumination for cooking or reading areas.
2. Built-in Seating
Built-in seating is both practical and aesthetically pleasing, as it maximizes the use of space and eliminates the need for bulky furniture.
Opt for comfortable and durable materials, such as weather-resistant cushions and pillows, that can withstand different weather conditions.
A combination of benches, corner seating, and even a built-in bar area can provide ample seating options for entertaining guests.
3. Heating Solutions
Extend the usability of your outdoor pavilion beyond warm summer evenings with heating solutions that offer comfort during cooler months.
Options such as patio heaters can provide a warm glow throughout your space and keep you and your guests warm, extending your outdoor season long after brisk autumn evenings arise.
4. Storage Areas
To keep your outdoor pavilion organized and clutter-free, consider adding clever storage solutions.
Whether it's a built-in storage bench, shelving units, or cabinets, having designated spaces to store cushions, blankets, and entertainment essentials will ensure that everything you need is easily accessible while maintaining a tidy space.
5. Audio Systems
Create the perfect atmosphere by incorporating an outdoor audio system into your pavilion.
Whether you prefer soothing background music or energizing tunes for a lively gathering, the right audio system can elevate the ambiance and entertain guests.
With outdoor speakers strategically placed throughout the pavilion, you can enjoy high-quality sound that complements the outdoor setting, turning your pavilion into a versatile space where music sets the mood and enhances every moment.
6. Fire Places
An outdoor pavilion can be elevated to a new level of comfort and elegance by incorporating a custom fireplace.
The addition of a fireplace transforms the pavilion into a cozy retreat that can be enjoyed year-round.
Whether it's a cool evening in the fall or a chilly winter day, the warmth and ambiance of a crackling fire creates a welcoming atmosphere for gatherings with friends and family.
While the flickering flames add a touch of romance and sophistication to your outdoor space, they also provide the perfect opportunity to keep your kids engaged with roasting marshmallows.
7. Outdoor Kitchens
Enhancing your pavilion with an outdoor kitchen adds a whole new dimension to the space, as it converts it into a hub of culinary creativity and lively social gatherings.
Imagine the convenience of preparing and cooking meals while enjoying the fresh air and natural surroundings of your backyard.
It not only elevates the pavilion's functionality but also fosters a sense of community and togetherness as friends and family can gather around, chat, and savor meals in the open air.
With the addition of appliances, countertops, and seating, the outdoor pavilion becomes a versatile, stylish, and practical extension of the home, perfect for hosting memorable outdoor dining experiences.
8. Privacy and Shade
Consider adding curtains, shades, or privacy screens to your pavilion to create a sense of seclusion and escape from the outside world.
Not only do these additions provide privacy, but they also offer protection from the sun's harsh rays, allowing you to enjoy your space comfortably throughout the day.
With these practical additions, your outdoor pavilion can become a functional and versatile space that can be enjoyed year-round.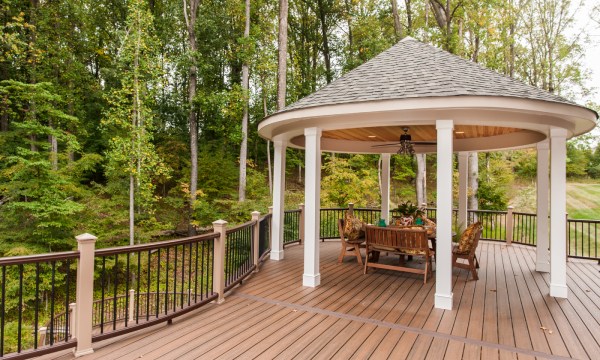 Outdoor Pavilions Are For More Than Just Entertaining…
Sure, an outdoor pavilion will add a touch of elegance and style to your backyard, but it offers far more than an eye-catching stage for your outdoor entertainment.
A pavilion offers endless possibilities for creating a versatile and functional space in your backyard.
Whether you're looking to create a peaceful sanctuary for yourself or want to amp up your work-from-home routine, there are plenty of ways your pavilion can help!
Create a Cozy Dining Area
Transform your outdoor pavilion into an intimate dining area where you can host memorable dinner parties or enjoy romantic meals with your loved ones.
Consider adding a large farmhouse-style table surrounded by chairs or benches, or add a built-in bar to add an element of sophistication to your next gathering.
Design a Relaxing Lounge
If unwinding is your top priority, why not turn your outdoor pavilion into a cozy lounge area?
Arrange plush seating options like sofas or daybeds with soft cushions and throw blankets to create a comfortable and inviting haven.
Add a coffee table or side tables for holding books, drinks, or snacks, allowing you to kick back and indulge in your favorite activities, whether it's reading, napping, or sipping cocktails.
Create a Versatile Workspace
For those who work remotely, turning your outdoor pavilion into a home office can be a game-changer.
Set up a desk that overlooks your backyard to keep the morning sun streaming in, providing a natural boost of energy.
Add shelves or storage solutions to keep you organized, and hang curtains or blinds for privacy when needed.
With fresh air and a serene backdrop, working from your outdoor pavilion will bring a touch of tranquility to your daily routine.
Design a Fitness Area
If staying active is important to you, consider transforming your outdoor pavilion into a fitness space.
Clear out the center area to make room for exercise mats, weights, or even a home gym system.
Enhance the space further by incorporating speakers for playing motivational music or installing a mini-fridge to store cold beverages during intense workouts.
Bring Nature indoors with a Greenhouse Pavilion
If you have a green thumb, consider utilizing your outdoor pavilion as a greenhouse.
Fill the space with shelves and tables for displaying potted plants, or create a vertical garden using hanging baskets.
Install ample windows or transparent walls to allow plenty of sunlight to nourish your plants, and incorporate a workspace for re-potting and plant maintenance.
A greenhouse pavilion not only adds a touch of beauty to your backyard but also allows you to indulge in your hobby year-round.
Unleash the full potential of your outdoor pavilion by exploring these varied options, and choose the one that best suits your lifestyle and preferences.
Remember, the possibilities are endless when it comes to designing a space that seamlessly combines outdoor beauty with functional use.
People Also Ask…
Can outdoor pavilions be used year-round?
Yes! With the right design and functional features like heating solutions, outdoor pavilions can be enjoyed all year round, even during colder months.
What materials are recommended for outdoor pavilions?
Popular materials for outdoor pavilions include wood, metal, and vinyl.
Each material offers different benefits in terms of durability, maintenance, and aesthetics, allowing you to choose the best option for your backyard.
How often should I maintain my outdoor pavilion?
Regular maintenance is important to ensure the longevity of your outdoor pavilion.
It is recommended to clean it at least once a year and check for any signs of damage or wear. Taking proactive care can help prevent costly repairs down the line.
Outdoor Pavilions for Sale in Dulles, VA
An outdoor pavilion can truly elevate your backyard by transforming it into a beautiful oasis.
With the right design elements, you can create a space that reflects your taste and enhances the overall aesthetic of your outdoor area.
From creating a cozy outdoor dining area to designing a peaceful reading nook or elevating your next cookout, an outdoor pavilion offers endless possibilities for maximizing its potential.
At Holloway Company, we are dedicated to helping you create the backyard of your dreams. As a family-owned and operated business, we strive to provide exceptional service, quality products, and honest guidance to our community.
Whether you're looking for porches and sunrooms, decks and curved decks, or pavilions, pergolas, and awnings, we have the expertise and resources to bring your vision to life.
Don't wait – contact us today and let us help you design and create your own exquisite outdoor oasis.