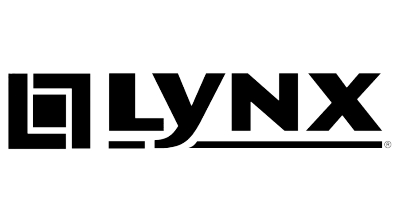 Unmatched Outdoor Living Experience
For over thirty years, Lynx has been a leader in producing upscale outdoor living goods, including grills, outdoor kitchen appliances, heating, and cooling systems. With exceptional quality, cutting-edge technology, and exquisite design, Lynx offers an unmatched outdoor experience. Explore the world of Lynx and take your outdoor living to the next level.
Lynx Professional offers the ultimate luxury outdoor living experience, combining expert craftsmanship with top-quality materials and cutting-edge technology that elevates culinary art. This exceptional machine is a masterpiece, effortlessly integrating into refined outdoor areas while providing exceptional performance that rivals professional restaurant-grade equipment. With Lynx, it's not just about the glamour; it's about cooking on a genuinely superior grill.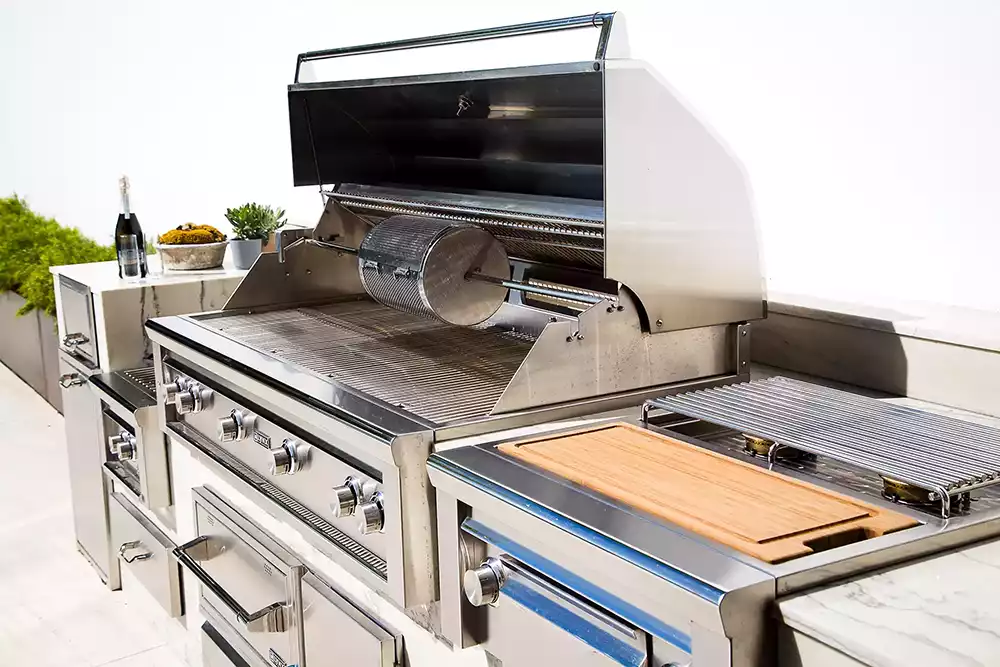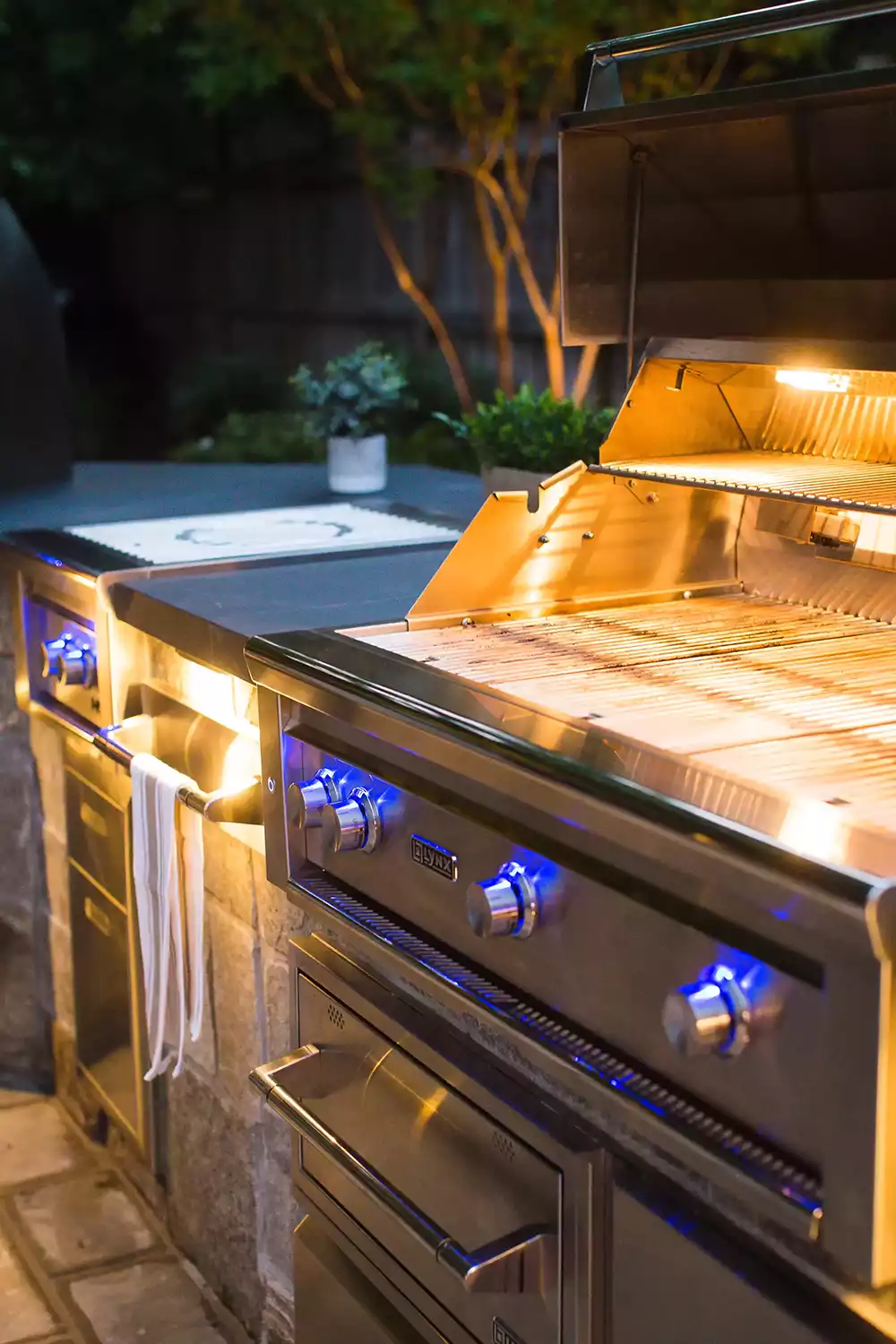 Choose Your Professional Grills Style
A Lynx Professional grill that is built-in becomes the centerpiece of your outdoor kitchen, like a precious gem waiting to be displayed.
A Lynx Professional grill that stands alone provides a luxurious grilling experience that can be transported and enjoyed wherever you go.
Discover the ultimate outdoor grilling experience with Sedona by Lynx. Featuring a sleek and modern design, these grills are crafted from premium-grade stainless steel and packed with features like ceramic burners, easy-to-use controls, and advanced cooking technologies. With a variety of sizes and configurations available, you can create a custom outdoor kitchen that perfectly suits your needs. Elevate your outdoor entertaining with Sedona by Lynx.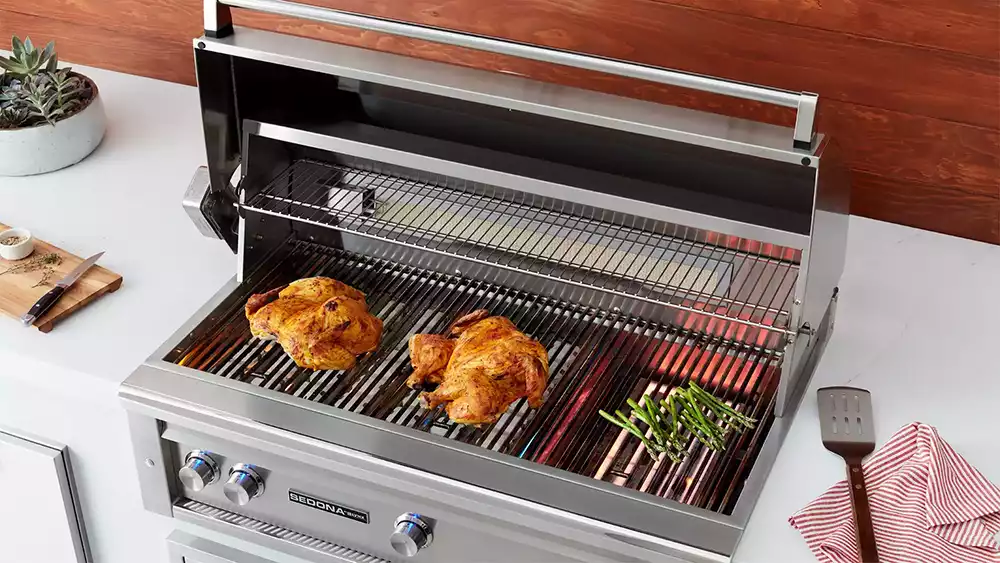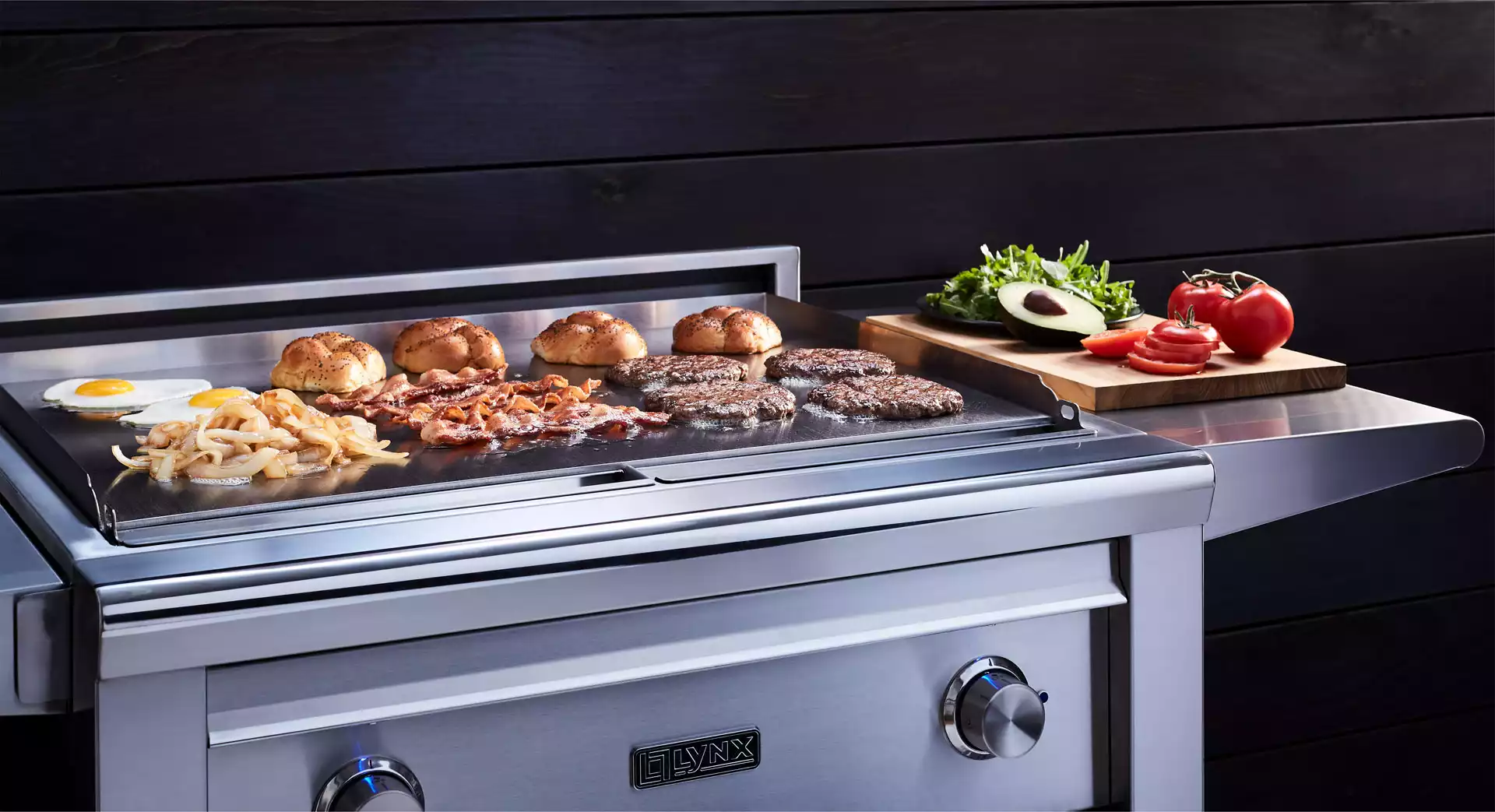 Choose Your Sedona Grills Style
Transform your outdoor living space with the radiant centerpiece of a built-in Sedona grill by Lynx.
The freestanding Sedona by Lynx grill provides a luxurious grilling experience with the added benefit of mobility.
Lynx's Specialty Cooking products are thoughtfully created to not only function as cooking equipment but also to serve as an entertainment center, providing a remarkable dining experience for you and your guests through their superior design, engineering, and manufacturing.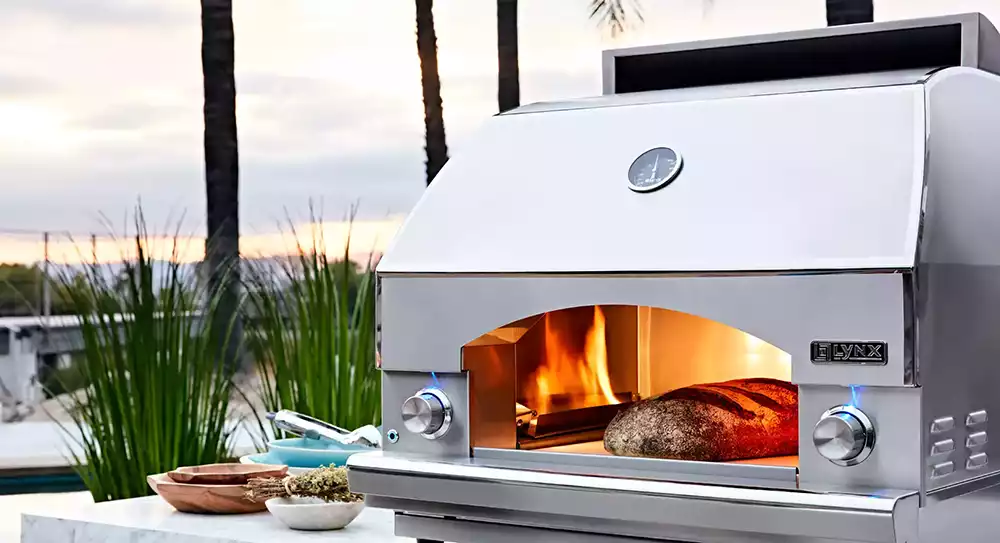 Experience the world-renowned Lynx Napoli Oven – perfect for outdoor cooking with a refractory dome that can bake at up to 700° F. Its rustic design and versatility provide a range of culinary options, from salmon glazes to rustic delicacies, making it a must-have for any outdoor cooking enthusiast.
Lynx Asado Cooktop makes outdoor cooking effortless by offering an array of fusion dishes, including the popular Yangzhou Fan rice and mango salsa, with its exceptional flat-top grill. It's fast to ignite and simple to clean, making it the ideal addition to any outdoor kitchen.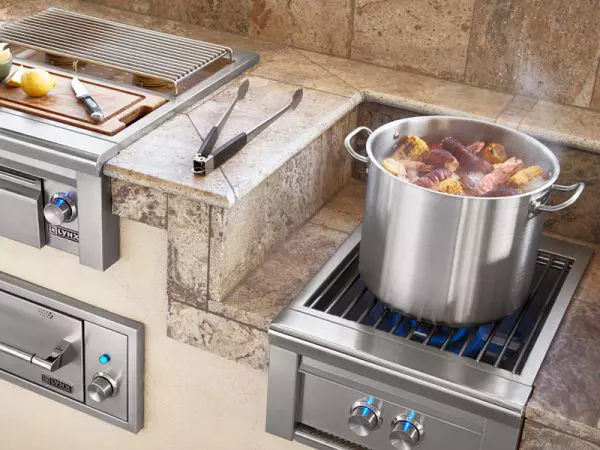 Lynx Side Burners are designed to provide precise cooking for smaller items and can be placed in various locations to accommodate side dishes and toppings. They are perfect for adding extra flavor to grilled entrees, such as rosemary summer squash, lemon butter mahi-mahi, or peanut curry chicken.
Lynx warming drawers offer a safe and consistent source of warmth for outdoor dining, making it a perfect entertainment spot and an exciting way to escape. You can also use them to warm towels while swimming.

Having an outdoor kitchen ensures that you are always ready to host events, with the added benefit of being able to keep food and beverages cold while having organized dining utensils. With all the necessary components in place, your outdoor dining area will become a frequently used and fashionable space.
Relax and savor a refreshing beverage or snack at any moment with Lynx outdoor refrigerators and beverage dispensers, providing dependable convenience and comfort.
An outdoor kitchen is not only a place to cook but also a social hub that is accessible and inviting, making it essential to keep all your necessities close at hand.
Sinks and Cocktail Stations
Having a convenient area for rinsing, filling, or washing nearby in your outdoor kitchen is essential to ensure that you can focus on what's important, which is enjoying unique experiences and conversations.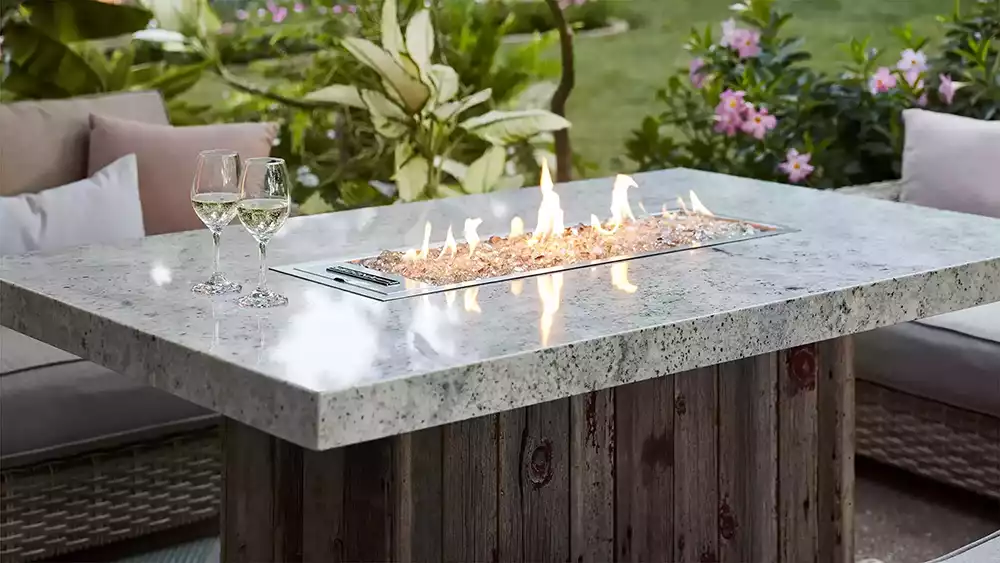 Enjoy the Lynx Life all year round with outdoor heating options, such as fire pits, that create a warm ambiance for intimate conversations, quiet reflection, and gatherings during the Fall and Winter seasons.
Although grilling can bring people together, it can also create smoke. To ensure that the air stays clear for conversations, consider installing a grill hood in an outdoor kitchen that has a back wall or shelter.
Lynx is well-known for its durable stainless steel, which can last a long time. In order to preserve its look, custom covers are available to protect the shiny exterior with a strong outer layer.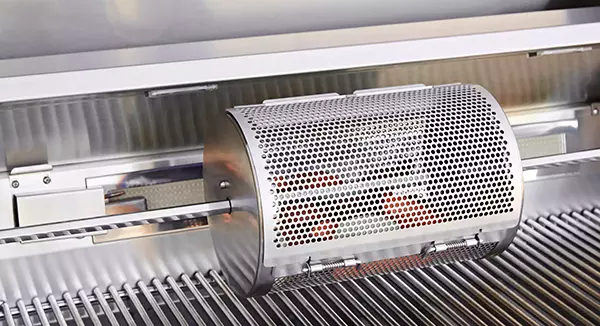 Enhance your Lynx outdoor kitchen's versatility by incorporating accessories like a griddle plate or rotisserie basket, specifically crafted to expand the functionality of your grill.
Get in touch with our team of home and backyard improvement specialists. We're here to make your house a home with trusted products, services and more!