Holloway™ Company is the leading choice for outdoor furniture and decks in Leesburg, VA, and the surrounding communities. We owe our success to our focus on top quality materials and superior customer service. That's why we've partnered with industry leaders like Kingsley-Bate™ to provide you with elegant and beautiful furniture. Here are the features that make their products stand out: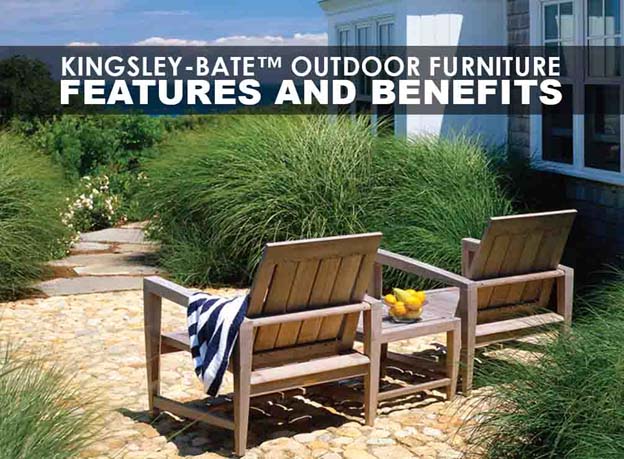 High-Quality Materials
Kingsley-Bate uses only the highest quality materials on their furniture. For instance, their premium quality teak is Grade A. Their teak furniture can withstand the rigors of harsh weather, yet grow more beautiful with time. Teak changes from a golden brown color to an attractive silver gray patina finish. They also offer first-class stainless steel furniture and woven furniture. Their all-weather wicker fiber is highly resistant to cracking and fading, while their stainless steel resists corrosion and is very durable.
Wide Range of Products
As an expert in outdoor furniture and outdoor kitchens in in Great Falls, VA, we understand the importance of variety. Kingsley-Bate offers a very wide range of products. They have collections for practically any kind of home style. Kingsley-Bate products focus small design details that have big impact. Depending on the style you choose, their furniture can have elegant sweeping lines or angular and clean frames. In addition, you can customize their products even further by choosing fabric designs. These fabrics are water repellant, colorfast, and mildew-resistant.
Environmental Responsibility
Lastly, we're proud to offer their furniture lines because Kingsley-Bate is environmentally responsible. They are the first American company to use Javanese teak in manufacturing their furniture. They harvest this teak from carefully controlled plantations. After every harvest, an equal amount of reforestation takes place. Kingsley-Bate furniture also lasts for years. This helps saves landfill space and conserves natural resources.
In addition to Kingsley-Bate, we offer furniture from Gloster, Parker James, Summer Classics, Tuuci, and Trex Outdoor Furniture. During our initial consultation, we will discuss all of your outdoor furniture options and recommend the products that best meet your taste and needs. Holloway Company has over 20 years of experience and we have worked with countless homeowners. We know how to make your deck or patio in Great Falls, VA, look great. Call us at (703) 634-4426 to learn more about our outdoor furniture. You can also get a free estimate and design.