With winter almost over, now is the perfect time to gather friends and family over to enjoy the longer days and be close to nature. One way to do so is by creating the ultimate entertainment and relaxation space right in the comfort of your own backyard. To achieve this, Holloway Company, the premier design-build company, shares three important features you should focus on: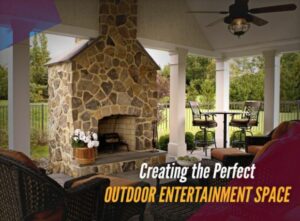 Quality Outdoor Kitchens
Having a fully functional backyard kitchen can significantly improve your outdoor entertainment space. After all, what's more convenient than having all the features of an indoor kitchen easily accessible in your outdoor dining space?  Make sure it's complete with stovetops, sinks and ample counter space. These necessary elements can help make your gatherings smooth and stress-free.
Lasting Outdoor Furniture
While it's important to consider comfort and style when choosing the furniture for your outdoor space, remember that the area is constantly exposed to harsh weather conditions all year. This includes strong rains, snow and direct sunlight. Make sure your living space stays in good condition by investing in outdoor furniture from Holloway Company. We have a beautiful selection of low-maintenance and durable pieces to help you create your ideal entertainment space.
High-Class Grill
A quality grill can be the centerpiece of your outdoor kitchen. This is why we recommend investing in a quality unit that can withstand years of exposure to the weather and frequent use, like our Primo Smokers. This ceramic grill can provide you with superior cooking flexibility and efficiency. You can also add a rotisserie and sear zone for the ultimate grilling experience.
Holloway Company can help you design and build your dream outdoor entertainment space. We can also include features like outdoor kitchens and fire pits. Call us at (703) 634-4426 to request a free estimate and design today. We serve Reston, Great Falls, Sterling and nearby VA communities.