Looking to expand your outdoor living space? A patio might be an ideal choice for you. It provides a relaxing environment for family gatherings, parties and romantic candle-lit dinners. Apart from these advantages, a well-designed patio also boosts your home's overall value.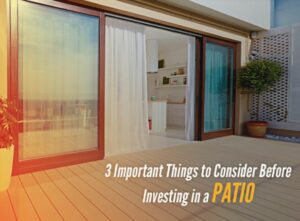 Nonetheless, a lot of planning goes into achieving a perfect home upgrade. Holloway Company, the area's premier patio builder, discusses the different factors you should consider:
Purpose
Before anything else, take the time to ask yourself what you will be using the patio for. Will it be mainly for outdoor cooking and dining? For spring and summer parties, perhaps? Or maybe you want to have a private space where you can read a book in peace? How you intend to use the area is a crucial factor in its design, so it's important that you are clear about your reasons for building this outdoor space.
Size
Your patio's purpose also affects its size. If you plan to use it for gatherings and parties, it's important to provide a space large enough to comfortably accommodate your guests. Other factors like property and design considerations also affect your patio's size. Working with an expert patio builder like us can help make the process easier, as we can suggest the best options based on your needs.
Convenience 
Your patio should be in the right location for its intended purpose. Nobody wants to spend an afternoon in the scorching heat, so be sure you build your patio in a shaded area. Alternatively, you can invest in patio covers to shield yourself from the sun.
If you need a professional to help you with your patio, turn to Holloway Company. We can help you design and build an outdoor space that suits your needs. We also offer quality patio furniture. Call us today at (703) 634-4426 for a free estimate and design. We serve Leesburg, Ashburn, Great Falls and the surrounding areas in VA.